Call Us: 02 9550 4442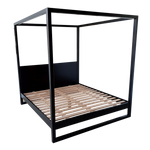 Custom Design - Canopy Bed
This canopy bed was created as a custom piece for a client who brought their idea to us and allowed us bring it to life. Though it maybe a classic "4 poster" bed, it's clean lines and simple structure give it an understated yet timeless feel.
Pricing starts from $7,900 for Queen size.
Perhaps you could add under-bed storage or bedsides and make it your own?
Do you like it?  We can make a similar piece for you, or you can 'tweak' it and create a custom furniture piece to fit your home and your requirements in the timber and finish of your choice!

Photos don't do our furniture justice. We recommend visiting one of our showrooms to see the true texture and warmth of our pieces. The velvet finish and quality of materials can only be experienced in person. 
Get in touch if you would like more information or photos. Contact us through the chat in the bottom right of your screen or call our Revesby showroom (9774 1445) to talk to one of our staff.
Have you checked out our "Available Now" page? We might have something on the our showroom floor that you've been looking for...  Click here to have a peek