Call Us: 02 9550 4442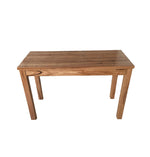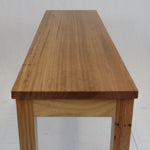 Hall Table - Henly Collection
The Henly Collection is designed to be a timeless and practical element in your home. The simple clean lines of this hall table will comfortably suit most decorating styles, is easily customised to suit your needs.  A landing strip for the entrance to your home or hallway, use it as a sofa table to complete the lounge area.  Add a drawer, maybe two?  Does it need a shelf?
For standard sizing (1000L x 450D x 880H) pricing starts from $1,430. Note that pricing depends on the timber and size of your hall table.
What about a mirror to hang above it?  One last look before you head out the door.
What do you think? We can make a similar piece for you or you can 'tweak' it and a create your own custom furniture piece to fit your home and your requirements in the timber and finish of your choice!

Photos don't do our furniture justice. We recommend visiting one of our showrooms to see the true texture and warmth of our pieces. The smoothness of the finish and quality of materials can only be experienced in person. 
Get in touch if you would like more information or photos. Contact us through the chat in the bottom right of your screen or call our Revesby showroom (9774 1445) to talk to one of our staff.
Have you checked out our "Available Now" page? We might have something on the our showroom floor that you've been looking for...  Click here to have a peek