Call Us: 02 9550 4442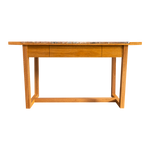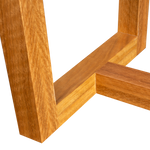 Customised - Ellis Hall Table
Starting with the bones of our Ellis hall table, having a sleek modern outline and distinctive 'U' shaped legs, our client's penchant for marble took the design up a notch by inlaying a marble top.  The hall table has a deep push-to-open drawer to complete it's uncomplicated clean line. 

If you have a smaller space, complete your look by pairing it with our Ellis coffee table or maybe use it as a simple buffet next to the Ellis dining table... 
What do you think? We can make a similar piece for you or you can 'tweak' it and a create your own custom furniture piece to fit your home and your requirements in the timber and finish of your choice!

Photos don't do our furniture justice. We recommend visiting one of our showrooms to see the true texture and warmth of our pieces. The smoothness of the finish and quality of materials can only be experienced in person. 
Contact us through the chat in the bottom right of your screen or call our Revesby showroom (9774 1445) to talk to one of our staff.
Have you checked out our "Available Now" page? We might have something on the our showroom floor that you've been looking for...  Click here to have a peek