Call Us: 02 9550 4442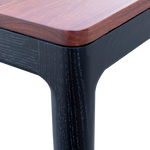 Dining Table - Allegra Collection
The word Allegra means happy and that's exactly what this table is designed for; to make many happy memories with family and friends.  It's round edges and turned legs give this piece a velvety look and feel which contributes to the understated yet striking tone of this table.
Pricing starts from $5,600 for our most popular size (2000L x 1000W x 760H). Note that pricing depends on the timber and size of your table.
Pictured here with a Jarrah top and black stained American Oak base. (Second picture is Blackbutt top and black base). Match this with the Allegra Bench Seat/s for a completed look.
What do you think? We can make a similar piece for you or you can 'tweak' it and a create your own custom furniture piece to fit your home and your requirements in the timber and finish of your choice!

Photos don't do our furniture justice. We recommend visiting one of our showrooms to see the true texture and warmth of our pieces. The smoothness of the finish and quality of materials can only be experienced in person. 
Contact us through the chat in the bottom right of your screen or call our Revesby showroom (9774 1445) to talk to one of our staff..
Have you checked out our "Available Now" page? We might have something on the our showroom floor that you've been looking for...  Click here to have a peek