Call Us: 02 9550 4442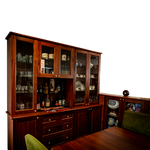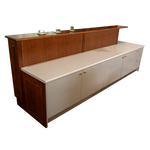 Custom Design - Redgum Unit
This regal two-piece unit was crafted from luscious Australian Redgum timber. With elegant glass doors and shelves, there is no question about the luxury of this build. Made for displaying glassware and liqueur, we have added small details like inlaid glass on the bottom shelf, to prevent staining on the timber, and heritage detailing on the timber doors and panels, giving this contemporary unit a classic twist.
We built the shorter display around a unit the client had purchased elsewhere, modelling our design to fit with what they had already - and we can do the same for you. 
Do you like it? We paired this Custom Display Unit with an Ellis Premium Dining Table in Red Gum, to create a rich dining space..
This unit will keep for generations without dating - style never does.
Do you like it? We can create a similar piece for you or you can 'tweak' it and a create a custom furniture piece to fit your home and your requirements in the timber and finish of your choice!
Photos don't do our furniture justice. We recommend visiting one of our showrooms to see the true texture and warmth of our pieces. The smoothness of the finish and quality of materials can only be experienced in person. 
Contact us through the chat in the bottom right of your screen or call our Revesby showroom (9774 1445) to talk to one of our staff.