Call Us: 02 9550 4442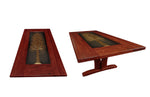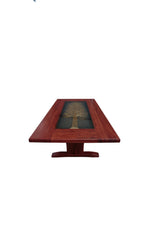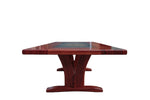 Dining Table - Custom Design - Hands Across The Water Water Charity Auction
This beautiful red gum table with gold leaf inlay was specially made with Hands Across The Water Charity in mind. Our team is so proud of our work and effort to bring this unique piece together, organising our stellar workmanship of wood work and intertwining the gold leaf tree insert, which has been handmade by a commissioned artist in Thailand.
Hands Across The Water was originally formed to help Thai children who were left alone and homeless after the 2004 boxing day tsunami. Today, the charity helps underprivileged communities in Thailand to give children a better start, guidance and support.
Proceeds of sale will be donated to the charity.
We can make a piece just like this for you or you can 'tweak' it and a create a custom furniture piece to fit your home and your requirements in the timber and finish of your choice!
Photos don't do our furniture justice. We recommend visiting one of our showrooms to see the true texture and warmth of our pieces. The smoothness of the finish and quality of materials can only be experienced in person. 
Contact us through the chat in the bottom right of your screen or call our Revesby showroom (9774 1445) to talk to one of our staff.f.