Call Us: 02 9550 4442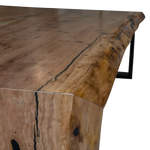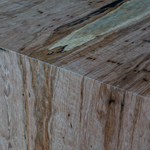 Custom Design - Waterfall Coffee Table
This elegant Waterfall coffee table is a custom piece.  Made in the distinctive waterfall design, showcasing the timber's grain and character. With a natural edge finish a metal 'U' shaped leg at one end to again highlight the timber and give it a slight industrial feel.  
For standard sizing (1000L x 600D x 450H) pricing starts from $1,600. Note that pricing depends on the timber and size of your coffee table. With a slab top, like the one pictured, pricing can start from $2,500 based on standard measurements, however, is also dependent on the slab measurements.
What would you pair this with? An oversized bookcase?
Do you like it?  We can make a similar piece for you or you can 'tweak' it and create  your own custom furniture piece to fit your home and your requirements in the timber and finish of your choice!
Photos don't do our furniture justice. We recommend visiting one of our showrooms to see the true texture and warmth of our pieces. The smoothness of the finish and quality of materials can only be experienced in person. 
Contact us through the chat in the bottom right of your screen or call our Revesby showroom (9774 1445) to talk to one of our staff.