Call Us: 02 9550 4442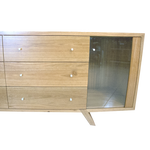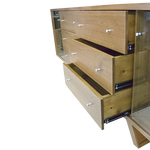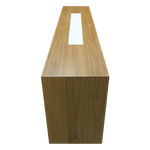 Buffet - Grace Collection
The Grace Collection is a modern, contemporary design.  Though it feels understated it has many beautiful features; The 'waterfall' affect to showcase the grain and natural elements of the timber, the Carrara marble inlay which draws your eye, it's discreet brushed silver knobs, all sitting on slightly splayed legs. It has ample storage and yet it deceptively seems to take up minimal space. This collection is simple and unique.  Originally created with a client as a custom piece we loved it so much we thought you would too!
This cosmopolitan dining room creation would sit beautifully beside the Allegra dining table.
What do you think? We can make a similar piece for you or you can 'tweak' it and a create your own custom furniture piece to fit your home and your requirements in the timber and finish of your choice!

Photos don't do our furniture justice. We recommend visiting one of our showrooms to see the true texture and warmth of our pieces. The smoothness of the finish and quality of materials can only be experienced in person. 
Get in touch if you would like more information or photos. Contact us through the chat in the bottom right of your screen or call our Revesby showroom (9774 1445) to talk to one of our staff.
Have you checked out our "Available Now" page? We might have something on the our showroom floor that you've been looking for...  Click here to have a peek