Call Us: 02 9550 4442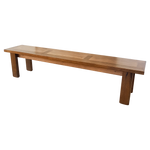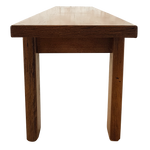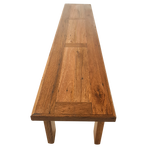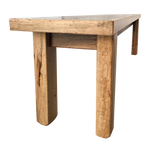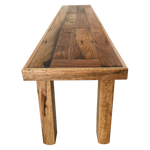 Bench Seat - Beach House Collection
Made from reclaimed fence palings, the Beach House collection is designed with casual living in mind. This collection has a variety of 'informal' finishes, from a 'raw' look to a white wash, the Beach house collection's relaxed look is able to suit most aesthetics. 
This bench seat can be used as a slimline informal coffee table, sit snugly under a low window as well as the casual seating it was designed for.
Pricing starts from $650 for our most popular size (1700L x 380D x 450H). Note that pricing depends on the timber and size of your bench seat to match your table.
Why not pair it with the Beach House dining table to complete your casual living space? 

Do you like it? We can make a similar piece for you! Or you can 'tweak' it and create a custom furniture piece to fit your home and your requirements in the finish of your choice.
Photos don't do our furniture justice. We recommend visiting one of our showrooms to experience the warmth of our pieces. The velvet smooth finish and quality materials can only be experienced in person. 
Contact us through the chat at the bottom right of your screen or call our showroom; Revesby (9774 1445) to speak with one of our staff.
Have you checked out our "Available Now" page? We might have something on the our showroom floor that you've been looking for...  Click here to have a peek